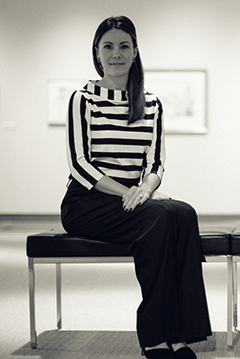 Katy Bakker
/ Director
With a unique background as an art historian and a collector, Katy Bakker brings education, experience, business acumen and international perspective to her role in the art world.
Bakker holds a BA from Rollins College (Winter Park, Florida) in art history with a minor in economics, and has embarked on a Masters of Liberal Studies at Rollins focusing on antiquity (Greece and Rome) to modern day, including American urban history.
Her hands-on experience includes Cornell Fine Arts Museum (Winter Park, Florida), where she assisted the Curator of Education, worked in public relations and event-planning, and edited the museum's website. She is a member of the Winter Park Art Advisory Board, and curates the city's "Art in Chambers" exhibitions series.
Bakker's extensive travels have taken her to most of western Europe as well as Croatia, Turkey, Kenya, Argentina, Central America, Canada and the Caribbean, frequenting museums, galleries, significant locales, and art events such as the Venice Biennale. As an equestrienne who has competed here and abroad since childhood, her interactions with participants and followers of the sport have given her exposure to the world of art buyers and collectors.
As co-founder of AK Art with Alya Poplawsky in 2010, Bakker's role as an art acquisition specialist includes identifying and cultivating prospects and clients in the market for modern, contemporary and emerging art. In addition to actively scouting the art market, tracking trends, interacting with key figures in the art world and attending art fairs, gallery shows, museums and major events such as Art Basel Miami Beach, Frieze (New York, London) and The Armory Show (New York), she brings business savvy to the equation. By educating clients and the community on the economics and investment side of art collecting, she adds demonstrable value to the client experience.
Alya Poplawsky
/ Director