Our Take on Art Basel Miami Beach
December 13th, 2014
Welcome to our new blog.  For our first post, we wanted to give you the highlights of our trip to this year's Art Basel Miami Beach (ABMB), December 2nd-7th.
Some background
It started in Basel, Switzerland in 1970. Art Basel was founded there by Basel gallerists Ernst Beyeler, Trudi Bruckner and Balz Hilt. The show was a success from the start: 90 galleries and 30 publishers from 10 countries exhibited at the inaugural show, attracting 16,300 visitors. In 2014, some 92,000 visitors attended the show over six show days.
Its sister fair, Art Basel Miami Beach (ABMB), has had a similar meteoric rise. 
ABMB has become the nexus of Miami Art Week, the art world's winter playground. It débuted in 2002 at the Miami Beach Convention Center (MBCC), with its more than 500,000 sq. ft. of exhibition space.  This year's fair attracted 73,000 visitors who came to see the most relevant art on the market offered by more than 250 of the world's best galleries. 
In case the art offered at ABMB isn't enough to inspire the world's art aficionados, satellite art fairs in Miami such as Pulse, Scope, Art Miami/Context/Aqua Art Miami and NADA, plus pop-up exhibitions, special museum events, private collections and parties have all become integral to the Art Basel Miami Beach experience.
Collectors, gallerists, consultants, dealers, auction-house specialists, museum directors, curators and yours truly are joined by celebrities, fashion icons and partiers for seven days of fun and celebration of the arts. 
For us, ABMB is one of our most important trips of the year. It's like a reconnaissance mission. We survey and explore the state of the art market. We scout specific works for our clients or projects. We track prices and price trends, discover emerging artists, and learn which artists are becoming established names. ABMB also gives us an opportunity to bond with clients, reconnect with galleries, and catch up with artists, colleagues and friends. And it gives us the chance to spot new trends.
Some key trends
The amount of art concentrated in Miami for these seven days is staggering. With so much art in one place, the latest trends in the art world tend to reveal themselves. Here are a few that caught our attention. (A note about captions: The information for each image posted here comes from the information the gallery put on its wall label for the piece. Some galleries were more forthcoming than others.)
Pop culture. This was a big trend again this year. Warhol's enduring impact never ceases to amaze. Emerging artists continue to include Warhol homages and references in their work, and pop icons and logos are still central subjects in a range of artwork.

 

That said, the number of actual Warhols exhibited this year declined from previous years.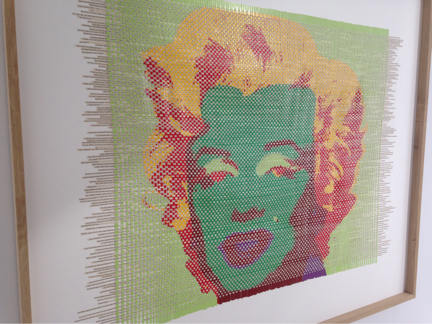 Jochen Holler, Bild-Textverwebung–Marilyn/Arthur Miller V, paper, carton, 126.5 x 150cm.
Mixing new and old genres. This is a very interesting new trend. One example was the use of an Old Masters painting technique with Old World subject matter as the background and a contemporary overlay of text or a pop of color on the foreground, as in Shawn Huckins' s Boatmen on the Missouri: Will Twerk for Food. The use of contemporary slang or text in an artwork, as works of art themselves, or as text-based art, continues to be prevalent.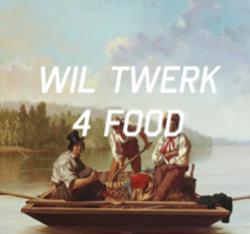 Shawn Huckins, Boatmen on the Missouri: Will Twerk for Food, acrylic on canvas.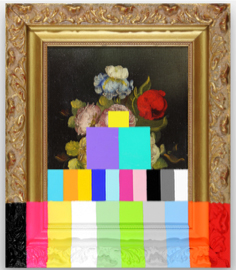 Chad Wys, Flowers, spray paint on found print and frame.
3-D paint applications. This is a fascinating take on an old and common medium.

 

Rather than simply being a means to apply pigment to canvas, both acrylic and oil paints were used to create 3-D objects such as flowers or flags, or to create the illusion of a textile, as in Ignacio Munoz Vicuna's Sin titulo 6. Walking past the piece, the viewer might think it's scrunched-up leather, but on further investigation it's just acrylic paint. Amazing!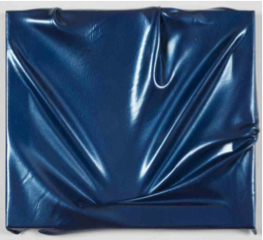 Ignacio Munoz Vicuna, Sin titulo 6, acrylic on stretcher bars.
Craft media in fine art. Media typically associated with craft or decorative art were used as primary vehicles for fine art. Paper was often in the forefront, either laser-cut or in beautiful sculptural form, as in Crystal Wagner's Hyperbolic 1. And as was popular last year, many works incorporated mirrors—for taking the de rigueur Art Basel selfie.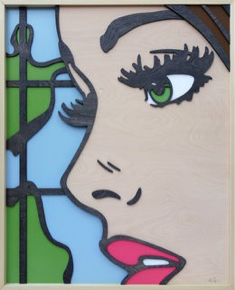 Mitch McGee, How Many Times, layered birch.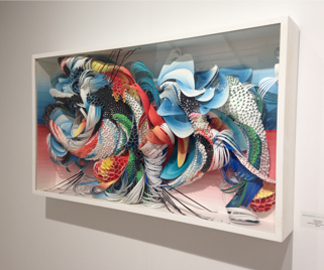 Crystal Wagner, Hyperbolic 1, screen print, paint, wood, UV plex.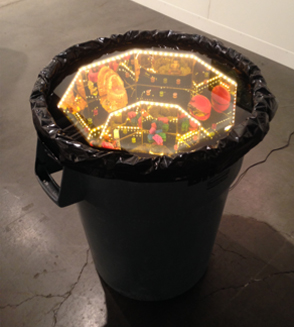 Ajay Kurian, Hive (Want), trash can, plexi, fake pearls, rose lenses, wood, custom M&Ms, reindeer moss, LED lights, copper wire, plastic.
World currency as medium. Many artists used actual money as the medium, either purely aesthetically, as with a found object, or as a jumping-off point for a social-political-economic message.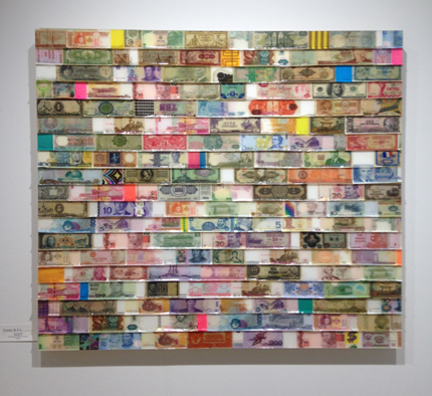 James Verbicky, Monetaire 14, mixed media on panel, 40 x 40 in.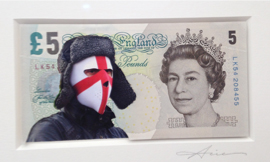 Artist: Carlos Aires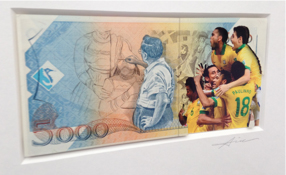 Artist: Carlos Aires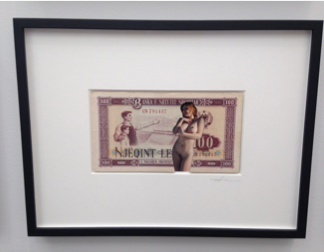 Artist: Carlos Aires
Installations. Galleries from the Convention Center to the satellite fairs didn't shy away from making installations the prominent focal point of their booths.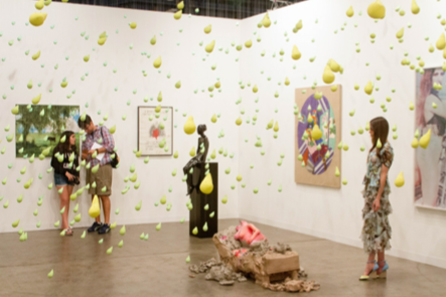 Urs Fisher, Small Rain, Sadie Coles Gallery, Art Basel Miami Beach (Photo credit: Kara Mosley)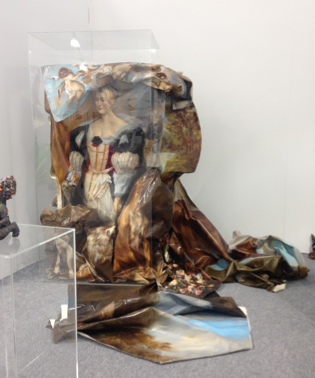 Artist: Teemu Korpela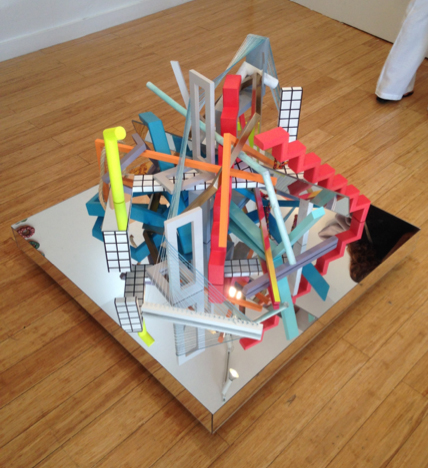 Clark Goolsby, Knot, mixed media assemblage, 36 x 36 x 30 in.
The human factor. Creepy and/or hyper-realistic sculptures and paintings of humans were prevalent throughout the fairs.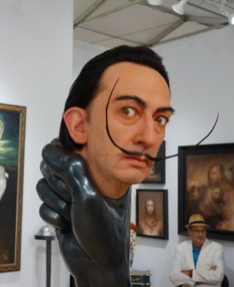 Kazuhiro Tsuji, Salvador Dali
* * *
Overall, this year's Art Basel Miami Beach was excellent—and excessive. With record attendance and strong sales, ABMB also brought traffic jams, quintuple-the-price surges for Uber, and countless celebs. (We spotted Leo DiCaprio, P. Diddy/Sean Combs, Owen Wilson and Betsey Johnson.) Yet despite the celebrity "invasion," the spotlight of Miami Art Week was where it was intended to be: on the art. 
After six days of total immersion, we came away informed, inspired, excited, and utterly exhausted. And we can't wait to do it again next year!