Armory Arts Week in Review
March 12th, 2015
This past week New York City was host to Armory Arts Week, a convergence of art fairs, museum shows, and a slew of events that revolve around the main fair, The Armory Show. Dealers, collectors, and art enthusiasts trudge all around the city to attend, and I was one such attendee with one very busy itinerary. Despite cold temperatures and nothing short of a blizzard (something this current Floridian is not used to) the trip was a success. Here is my review of Armory Arts Week…
Thursday, March 5:
I kicked off the day with a trip to Sotheby's for a little secondary market research. I was there for the first hour of the Contemporary Curated Sale, which opened with eight Alexander Calder's (all of which sold). A Willem de Kooning, a Robert Motherwell, an Alex Katz, and a couple of Louise Nevelson's sculptures followed; however, it was the cover piece by Kazua Shiraga with an estimate of $1.8-$2.5 million that everyone was waiting for. Fetching $1.8 million, it sold for the highest price of the auction, and greatly contributed to the grand total of $17,674,188. With 80% of the lots sold, it's good to see the secondary market strong.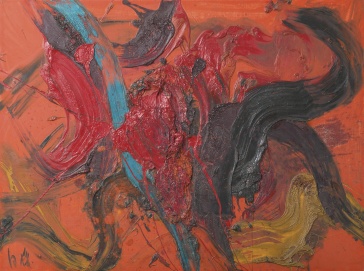 Kazuo Shiraga, Untitled, 1964, oil on canvas, 97.5 x 130.4 centimeters
Next on the list was the namesake fair of the week, The Armory Show. The trek from Sotheby's to The Armory Show was in the midst of a blizzard, and would explain the low number of attendance at the fair this day. The quietness seemed to foreshadow what the fair was like: placid and fairly uninspiring. While there were some heavy hitters in the art world present in terms of both galleries and artists, it took me a while to find something that really caught my attention. Highlights did include the works of Mark Thomas Gibson, a young Yale School of Art grad and studio assistant to Kara Walker, Brandon Ballengee, and Shayar Yahalom. Although I did see some works I liked, the fair was very much like last year and frankly, a little stale…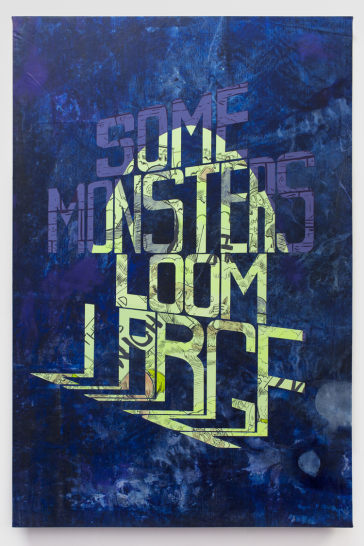 Mark Thomas Gibson, Searchlight, 2015, acrylic on canvas, 60 x 40 inches
Walking from The Armory Show to VOLTA NY was refreshing, and not just because of the blast of chilly air on the walk over. VOLTA NY was one of my favorite fairs this year even though the new location was not quite as fitting as it was last year when the space was cool, small, personal, and slightly industrial. By moving to the pier the fair may have lost a bit of personality. However, the concept of the fair – each gallery can only bring one artist – really allows one to get a better grasp of an artist's oeuvre as opposed to seeing only one or two selections in a booth that has multiple artists. Also, the booths at VOLTA NY were thoughtfully curated and unique. I liked quite a few artists at this fair, and even had a run-in with the designer Marc Jacobs. A new favorite for me, and a standout among all the fairs, was the Bahamian artist, Lavar Munroe, who happened to find out that day that he was included in the 2015 Venice Biennale (Congratulations Lavar!).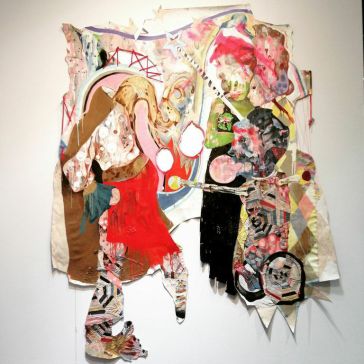 Lavar Munroe, Something Strange This Way Comes, 2014, acrylic, spray paint, latex house paint, buttons, ribbons, string, stickers, and found fabric on cut canvas, 74 x 96 inches
Friday, March 6:
Day 2 started off with an amazing curator-led tour of the Kehinde Wiley exhibit at the Brooklyn Museum, which was a part of The Armory Show's exceptional VIP programming. It was a great experience learning about Wiley's artistic development during his prolific 14-year career. Consisting of works from 2001 to the present, this exhibition is considered a survey of his works, which showed the different facets of his artistic evolution. The exhibition included many different mediums not typically shown such as stained glass windows, bronze busts, large equestrian paintings modeled after Old Master's paintings, a selection of works from his ongoing World Stage project, and a rare video project called "Smile".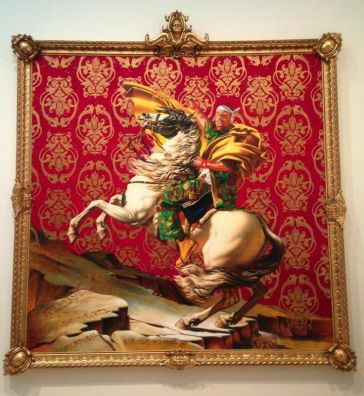 Kehinde Wiley, Napoleon Leading the Army over the Alps, 2005, oil on canvas, 108 x 108 inches
Art on Paper, in its inaugural year, was next on the itinerary. This fair featured "work by artists who look to paper as a major influence in their sculpture, drawing, painting, and photography." I was half expecting the show to be a little boring, but I was WRONG. There were some really beautiful works, and very creative techniques employed. A few standout artists included: Julia Von Eichel, Federico Uribe, whose fun animal sculptures made out of books and paper made you smile, and Charles Clary, whose hand-cut paper and wallpaper on distressed drywall work I purchased for my own personal art collection. The fair was light, bright, open, and had a unique concept. The one downfall was waiting 45 minutes for the shuttle to go back to The Armory Show in order to head to SCOPE New York.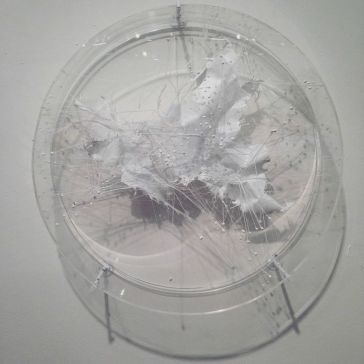 Julia Von Eichel, Last, 2014, acrylic on mylar, string, plexiglass, 29.5 x 29.5 inches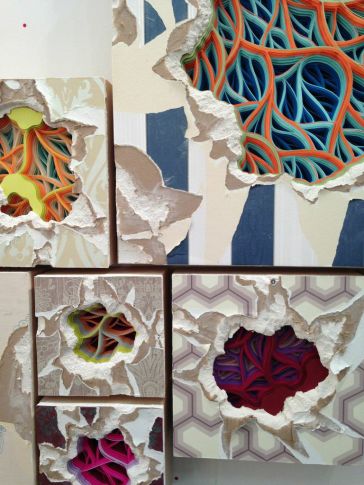 Works by Charles Clary
SCOPE New York had the edgiest artwork of all the fairs, and I went during the VIP opening, so it also had the most (mostly drunk) people. This, coupled with a weird layout intended for "organic flow," made the fair a little difficult to navigate. I found a couple of gems here, like Boris Tellegren's stunning paper collages, and works by familiar artists like Rob Tarbell and Tim Conlon.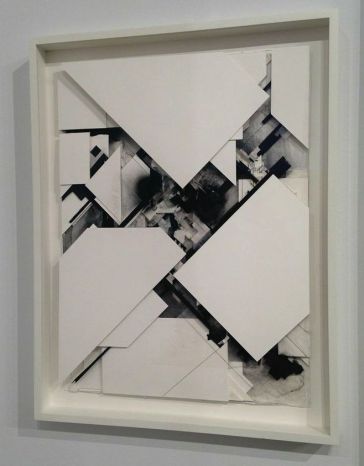 Boris Tellegren, Random Distress 13c3, 2013, paper collage, 65 x 48 centimeters
Saturday, March 7:
Day 3 kicked off with a visit to PULSE New York. Immediately visitors were greeted with works by Elisabeth Condon, who was announced as the winner of the 2015 New York PULSE Prize. The space was really pleasant and easy to walk through, but rather small. The fair was not quite as cutting-edge as it has been in the past, but there were really remarkable works like Irfran Onurmen's portrait made out of multi-layered cut tulle mounted on canvas, and Sandra Ono's wall sculpture made out of sandwich bags and glue. I definitely did NOT need the two-hour time frame I blocked on my itinerary for the visit, but I guess that allowed for a brief shopping excursion.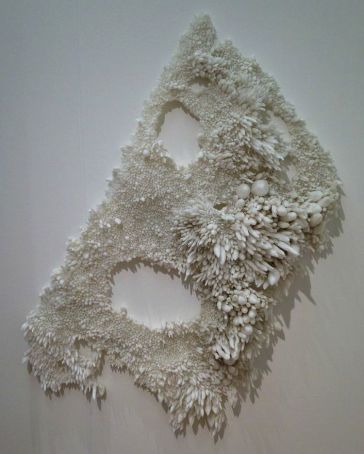 Sandra Ono, Engrams, 2013, sandwich bags and glue, 54 x 42 x 12 inches
I finished off Saturday with an incredible visit to James Weber's studio in Chelsea. This, however, is going to be a whole blog post unto itself, so stay tuned!
Sunday, March 8:
My trip ended with another bit of The Armory Show VIP programming, a visit to the New Museum for their private viewing of their 2015 Triennial: Surround Audience. "Surround Audience explores the effects of an increasingly connected world both on our sense of self and identity as well as on art's form and larger social role." In laymen's terms…how social media is affecting the art world and us as individuals. I thought the premise and curatorial statement of the show were very relevant to today, but it was not immediately obvious how some of the works connected back to them at first glance. Thanks to extensive wall labels, the artists' messages became clear. However, with five floors of works, one did not always get a chance to read all of the labels. It is a cool museum, and I really appreciated the statement of the triennial. I left thinking some of the work was great, some slightly confusing, and some just bizarre.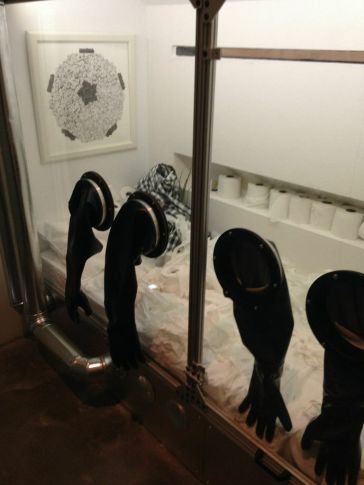 Nadim Abbas's Chamber Installation
There were a lot of great works to see around NYC, so my overall review of Armory Arts Week is very positive. The fairs that I thought were lacking did so for not offering something fresh or unique. The best shows were changing the approach to art fairs and presenting the art in new ways. Don't get me wrong, it's always a pleasure visiting the fairs that have been around for years, but as new fairs keep popping up, older fairs must always be evolving into something greater than they were the year before to keep the frequent fair-goer excited.
-Katy