Earls Kitchen + Bar – Miami
For Earls, art is the "7th ingredient"; an integral component of the design of their restaurants. With corporate headquarters based in Vancouver, Canada and over 50+ locations throughout Canada, Earls approached AK Art during their expansion into the U.S. Not only are we collaborating with their corporate design team to create a contemporary corporate art collection, but we are also aiding their PR and Branding by integrating local artists into their design concept; fostering ties and engaging with the local community.
Initially Earls wanted to go with something very street and urban for this location, but after sending them research on the local street art scene along with taking the Creative Director of Design on various studio visits. We decided to commission contemporary, Miami based artist, Pancho Luna to create Red Symphony. We asked Pancho to create a piece in the color red as red is a branding color for Earls. Pancho uses a lot of texture and layers in his work, which was an immediate draw to Earls, and they loved the idea of replicating a CD case.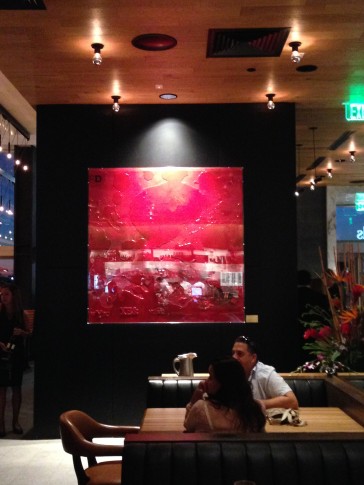 Pancho Luna Red Symphony